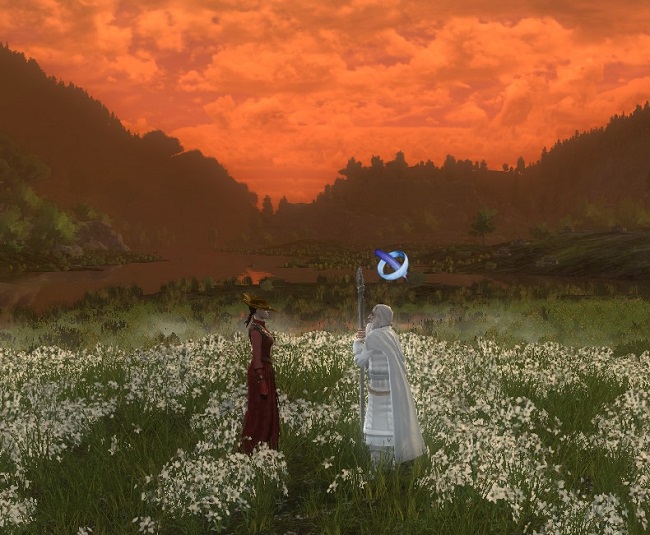 ---
Lord of the Rings Online
---
Minas Morgul went to the LotRO store a few weeks ago, and that was enough to return to LotRO. My last attempts to play LotRO ran afoul of patching failures (unable to install the MM patch), and previous to that, no idea how to get the epic questline when the Vales of Anduin released. I thought it was bugged.
Let's just say the returning player experience caused me to uninstall months ago, and this time it was still pretty bad. There was no quest popup or lead-in when I bought the Minas Morgul ex-pack, for example. I was a bit bewildered.
The good news is that Standing Stone is making "all Lotro quests, instances, and skirmishes, including those in expansion packs, open to everyone through April 30."(Source.)
So if you want to jump back in without a subscription, now is the time. So far I'm having a fair bit of fun in this era of social isolation, and I feel like I'll be able to stick with it to the new level cap of 130.
The spring festival also started today in Middle Earth. Per the announcement, we will also have some special events to cheer people up during these difficult times. Honestly the Landroval server is crammed with people right now, for whatever reason. It's been quite a while since I've seen such a player population in LotRO.
---
Pathfinder: Kingmaker
---
This is on 60% off sale this weekend on Steam. I'm going to highly recommend this game as a fantastic Baldur's Gate style experience. I've been watching a Twitch streamer play it (HazVsRPG).
Personally, I find Keep and lands management to be a bit tedious, and I'm looking for more social online experiences that make me feel less lonely and depressed. So I might buy this, but I'm not sure I'll play it over LotRO right now.
---
U.S. Stock Market
---
I was reading an article today about the stock market during the 1918 Spanish Flu. The market then sold down 30+% very early in that time, the same as now. That was also months before the worst of the flu hit the world.
The market never went below that point afterwards. These are very different times, in all kinds of ways. Nonetheless, some people are speculating this could be the bottom, or very near it.
I've legged into Amazon (AMZN), Netflix (NFLX), Akamai (AKAM), Verizon (VZ), and Tencent (TCEHY) in the past week. This is all for the stay-at-home economy. I was on top of this before people started writing about and buying into these stocks, as well. So I'm still doing quite fine.
Akamai was up 10% yesterday on reports of various internet outages (Akamai serves to mitigate overloads with their server networks.) It's down today though, and I haven't researched why.
I am also legging into Silver (SLV). A soaring dollar has crushed silver and gold, among other things. During 2008, silver dropped as low as $8.50/OZ. So I'm prepared to double down at that point and triple down if even lower.
I was previously considering buying a PC manufacturer for the work-at-home economy. Articles this week have mentioned laptops disappearing from shelves in stores. It's hard to buy a pure PC manufacturer, although Lenovo (Chinese) on the pink sheets is a possibility.
Today Logitech (LOGI) was soaring 10% on articles about the need for its products for working at home, as well as exposure to gaming. That's a great pick. I wish I'd thought of it before the 10% up. Now it's a little late for my taste.
Instead I pushed a bit into Tencent today. I don't like buying a giant diversified company in general (i.e. Sony), but it's a good global play on video game demand. Also, China has contained its virus for now. Who knows what could happen at Blizzard HQ in California, for example, possibly setting fire to your ATVI.
Let me be clear that all of my positions now are half-positions. Small stuff, so I can buy more if the markets do indeed go another 10%-20%.
---
Personal
---
My cough continues to be severe. I got tested for Covid-19, but my doctor didn't do the test properly I think. In any case, the lab could not process it. So I still don't know.
I do have some issues breathing at times. That could just be mucus buildup, or a panic attack since I'm having real issues with stress.
Anyway, if I stop posting you'll know what happened to the kitty. Creative work on the game is on hold, for the most part, until I feel better both physically and emotionally.
The Cursed Tombs dungeon has been patched up a fair bit, however, and is still open for business here.
Stay safe, stay at home. I see pictures on Tumblr of everyone in 1918 wearing masks. Why are we still not wearing masks??? China, Hong Kong, and South Korea have all contained their virus. They are also all wearing masks. HMMMM.
Well, I'm still trying to get some masks delivered from Amazon. My first order still hasn't shown up after 3+ weeks. Crossing my fingers on the second attempt. I bought a water filter. I bought a lot of food. I bought a very large bag of cough drops.